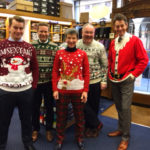 Has the mad dash to Christmas begun in your household? Are your cupboards bulging with presents waiting to be wrapped, the freezer filling up too quickly and notepads full of jobs yet to be done – when you have time ! Or have you welcomed the Elf-on-the-shelf into your home in the faint hope of a calm run up to the big day? Life can be quite hectic for all of us at this time of year until we can sit back, breathe a sigh of relief and watch on in delight as Christmas Day unfolds and we can all relax as the precision-timed dinner fills the house with a wonderful aroma.
We at Montys would just like to press the pause button on the frantic planning process for just a moment to thank you all for your continued support throughout the year, a difficult time for the high street and many of our long established much loved shops in town.
It is very encouraging to see familiar faces of new and long standing friends come through our door to enjoy a chocolate and to pass the time, some of whom we have known for many years.
We would like to raise our glass to you all – thank you.