Olymp
OLYMP Luxor Shirts
Extremely easy to wear and care for these comfortable but smart shirts can be worn for business or casually.
We are one of the OLYMP's largest stockists in the UK and always maintain a large variety of collar styles (cutaway, casual button down, standard collar shape, concealed button down) and shirt shapes (comfort, modern and body fit).
Our new Spring season shirts feature a selection of contemporary, distinctive bold and subtle checks and clean cut fresh plains with many of them having striking contrast trimming details in the collar and cuff linings or with unique coloured buttons and attractive stitching allowing you to wear the shirt formally or dress down.
We stock 3 different fits to accommodate various customer shapes and sizes.
Comfort fit – slightly more generous fit
Modern fit – 90% of our sales are this shape, slightly tailored – definitely NOT slim fit
Body fit – a tall long and lean fit – slimmer !
The OLYMP Luxor shirts in comfort and modern fit are 100% fine Egyptian cotton, non-iron and wrinkle free staying crisp and fresh all day.
The Body fit shirts are a 97% cotton / 3% elastaine stretch blend that moves as you do during the day and evening.
The fabrics OLYMP use are designed by them and are exclusive and unique to them, are breathable and kind to the skin and are simply wash, dry and wear !
We stock the OLYMPs in sizes 15″ to 19″ instore but can order direct from Germany in 4 working days and can obtain short sleeves, shorter length long sleeves (I hope that makes sense !), extra long sleeves and of course standard sleeve shirts and larger collar sizes up to 21″ collar. We carry a specialist stock folder of all their designs on the stock programme, please pop in for a peak at it.
Plain single cuff shirts are £49.95 (15″-18″ collar), £55.00 (18½"-20″), plain double cuff shirts £59.95 (15″-18″ collar), £65 (18½"-19″), patterned single cuffs are £59.95 and £65 (15″-18″ collar) and £69.95/£75 (18½"-19″). Double cuff patterned shirts are £69.95 (15″-18″ collar) and £75 (18½"-19″).
OLYMP Casual Shirts
Comfortable Olymp casual shirts look equally at home teamed with smart formal trousers or casually with shorts, jeans, chinos and cords.
Our extensive selection of short and long sleeved shirts range from Medium to 4XL (XXXXL) and are made from either a 100% soft easy care pure cotton or 100% soft linen in a variety of seasonal checks, plains and stripes to compliment any outfit. There are a mix of button down and standard soft collar looks that can be dressed up or down.
We also have a carry forward range of Olymp's 2 ply cotton soft warm handle shirts alongside their cotton and cashmere blends for the cooler mornings and evenings. The shirts are so soft and pleasurable to wear in a variety of colour palettes to compliment most casual trousers.
OLYMP Short Sleeve Polo Shirts
Stay cool and fresh all day long in Olymp's pure cotton fine knit polo shirts. We carry 17 colours in stock from Medium to XXXXL and they start from £49.95. They are easy care with minimum wrinkle and no pulling. Guaranteed to keep you cool even on the sunniest of days.
OLYMP Soiree Shirts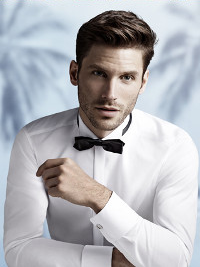 For the perfect addition to a black dinner suit or white tuxedo, OLYMP Luxor dress shirts are 100% pure Egyptian cotton and easy care non-iron and will remain wrinkle free all evening long.
So many of our customers that cruise, swear by their performance and non-creasing ability and ease of washing.
All of these elegant ranges have double cuffs with a hidden button placket to emphasise the exquisite look that is OLYMP Soiree and are priced at £65 (15″-18″) and £69.95 (18½"-19″).
OLYMP Soiree – effortlessly impeccable.