Made to Measure – Montys Travelling Tailor in Northamptonshire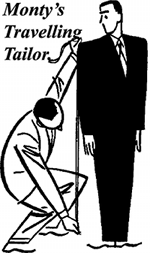 New to Montague Jeffery is our home made to measure service for a tailored solution.
Let's face it – off the peg suits with generalised sizing has it's limits! You are probably pretty busy too and need someone who can provide you with an evening visit after work.
Whether you need a suit for a wedding, a special occasion, or just for day to day wear, our travelling tailor Patrick Leonard can visit your home for unique, semi hand tailored and finished garments of your choice.
We offer a wide, comprehensive selection of cloths, from light 9oz linen cottons to heavier weight 20oz tweeds and twills.
Please phone 01604 639605 or email for details and a no obligation visit from Patrick.
---