Suits
Always more then 600 in stock
Sizes 34″ to 56″
Short, regular and long fittings
Fantastic selection of traditional tweed and contemporary styles
Prices from £99 to £695
Made to measure service from £795
Great selection of two and three piece suits in stock.
Mix and match ranges available
Alterations and tailoring by our own tailoresses
Pure wool, wool mix, linen mix cloths
Brands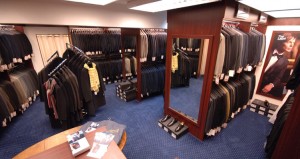 Testimonials
Here is what some of our happy customers have to say:
Paul Keech
Just bought a great suit and two ties. Service was brilliant and nothing was too much trouble for Tony, who was very helpful.

Always a pleasure to shop here with good old fashioned service and quality clothing that you struggle to find elsewhere.

Will be back soon.
Tim Jackson
Fantastic gentleman's outfitters. They took one look at my fiance and knew what size he was without even measuring! Superb colouring in the material of both suits and trousers. The non iron shirts are also a perfect and beautiful material, also extremely comfortable. Love this place the staff are extremely exceptional. Would recommend 100%.
Graham George
I visited the shop last week for the first time. I cannot thank the staff enough for the help and time they spent with me whilst choosing a suit, shirt and tie for a blessing. Tony was extremely courteous and his 40 odd years of experience was invaluable. I would recommend Montague Jeffery's to anyone. Thank you so much.