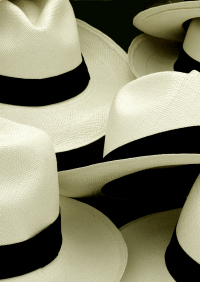 For all of you who are playing golf or are out enjoying the sun, I'm sure you are all aware of the need to wear a hat or some form of headwear.
For those that don't wear a traditional knotted hanky, we have all manner of chic cotton linen, straw and Panama hats.
With simple cool cotton sun hats starting at a moderate £4.95 through to popular straws starting at £9.95 to stylish Panama hats at £49.95.
All of our quality Panamas are made by Olney headwear in Luton, the hoods (the straw frame) are meticulously hand woven in Ecuador and then trimmed and finished to a very high standard in Olneys factory.
We have three appealing styles in stock all sized in hat sizes from 6 3/4 to 7 5/8 as well as a super-fine, versatile panama of excellent quality which can be folded making it ideal to take on holiday at only £69.95 and also comes with a FREE protective tube to travel with.
Pop in and see Sally who looks after all things headwear and stop that "sunburn"!
Featured Hats
 SM68 Folder Brisa
5 1/2cm brim
Black band and bow
Sizes: 54 – 63cm
SM3 Pre-set Panama
5 1/2cm brim
Black band and bow as standard.
Sizes: 54 – 63cm
SM1 Wide Brim Panama
7cm brim
Black band and bow as standard
Sizes: 54 – 63cm
SM4 Drop Brim Panama
6cm brim
Band 10 as standard
Sizes: 54 – 63cm