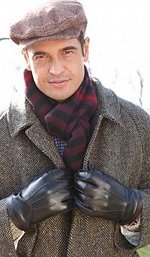 The history of Dents can be traced back to 1777 when John Dent established his accessory company manufacturing the finest quality gloves using the finest quality leathers and suedes. This is as true today as it was all those years.
As Northamptonshire's premier stockist, we carry a huge stock of their different styles from casual through to driving gloves, dress and shooting gloves.
Dents use the best calf leathers, sheepskins, deerskins, nubuck leathers and incorporate linings such as wool, cotton, silk and cashmere.
Prices range from just £49.95 to over £110 and sizes vary from 8 to 10½. We also stock knitted gloves in wool, acrylic and cashmere from just £12.95.
A new addition this year are Harris Tweed and leather gloves with a fleece lining at £39.95.
We have a huge selection of Winter scarves in lambswool, silk and cashmere to keep everyone warm this Winter.
Feel free to pop in and try some on – they all make marvellous presents.
Did you know?
When selecting a pair of leather gloves, the most important consideration is the fit. The best feature of any Dents glove (apart of course from the beauty of the best quality leather) is our special Dents fit which can only be achieved through the skill and experience of the true craftspeople taking each of our gloves through 32 separate operations many of which can only be done by hand.