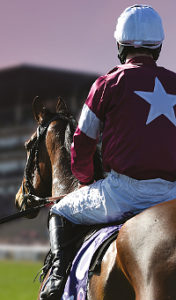 The highlight of the jump season with an atmosphere that will make the hairs on the back of your neck stand up.
The festival epitomises and encompasses everything that is great about jump racing as the finest horses, jockeys, owners and trainers battle it out for the highest racing honours and of course £4.5 million of prize money. 260,000 people will pass through the gates over the four days and Montys are well placed to help you make an impact over the four days. "Comfort and class" or "dress to impress" are the order of the day and we can suit and boot you either way.
We have a in depth selection of tweeds in both jackets and suits together with any of the accessories required to keep you warm and dry over the duration.
Pop in and challenge us to get you ready for the races !
For more information – visit www.thefestival.co.uk