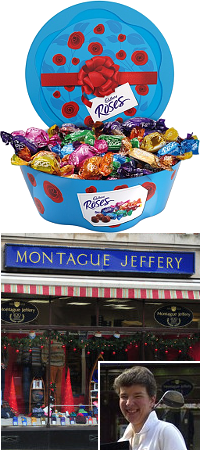 With just over 7 weeks to go until Christmas and the clock is ticking, Montys are ready for the Christmas trading period. We are full to the brim with festive goodies and selling them well.
Why not pop in when you are passing for a preview or a purchase at your leisure whilst we have all the colours and sizes in stock and before the mad rush of the last 2 or 3 weeks, you can then sit back and enjoy the festivities.
The Christmas Roses chocolates are out now for all to enjoy (before Tony, Simon, Patrick, Sally, Jonathan, Charlotte, Jessica, Sean, Sue, Averil and Felicity eat them all !)
Hope to see you soon.
7 Weeks to Christmas
Sally and her team have started this years Christmas windows and will finish next week after much hard work and many long hours.
We hope you like them and they give you some gift ides. There will be extended shopping hours to help in the forthcoming weeks – more news and details to follow.