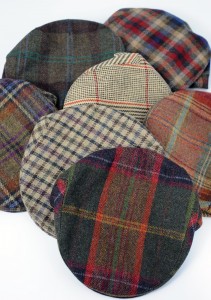 A larger and more extensive range than ever awaits your inspection this year. English made hats and caps are in vogue this year.
Olney made in Luton and Failsworths from Manchester are featuring Harris Tweed and Shetland wools made into classic and contemporary styles that look unique and so stylish.
Classic and traditional caps combine with chunky 8 piece caps with bright purple linings to reinforce their contemporary look.
Drop brims and classic trilbys share the shelves with crushable wool felt hats and formal racing trilbys which are ideal for a day at the races.
For colder days or watching the rugby we have fur trapper hats encased in Harris Tweed – guaranteed to keep you warm!
This year we also have a limited number of ladies hats and caps made for us by Olney headwear in Luton.
They feature pure Shetland wool trimmed with fur in some cases, but exciting trims and linings with fleece inside to keep out the cold.