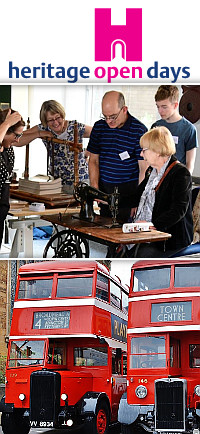 Heritage open days is a national event co-ordinated locally by Northampton Borough Council and run by volunteers who give their time and expertise.
It's your chance to see many of Northampton's buildings, properties, churches and businesses who throw open their doors for you to look round whilst experiencing classic bus services to transport you from one location to another.
The following properties and churches are included with many more available to visit.
All Saints Church
Phipps NBC Albion Brewery
Royal & Derngate Theatres
The Guildhall
78 Derngate
Hunsbury Hill Ironstone Railway Museum
with many more to visit
More information online with bus timetables etc: