Wilson and Sloane Knitwear
A firm favourite with our customers year after year. Renowned for their colour choices and different patterns, their Italian inspired designs are beautifully made in a Merino wool and acrylic blend which gives the knitwear shape and enables them to be machine washed.
We stock them in sizes Medium to XXL and the extensive selection of patterns are available in crew and V necks at £89.95.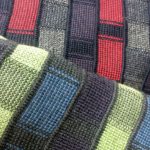 Plain Franco Ponti Knitwear
The very best of Italian knitwear made from a smooth, comfortable Merino wool and acrylic blend which ensures they are machine washable, do not "pill" and keep their shape. They are made in 30 different plain colours and we keep 15 in stock at any one time in crew and V necks, cardigans, slipovers, roll collars and long sleeve polo style knitwear. Most of the colours are in stock in Medium to 4XL but other colour and style combinations are available from Franco Ponti themselves in just a few days. The crew and V necks are £59.95 and the slipovers are £55.00, cardigans are £69.95, roll collars are £49.95.
Peter Gribby Knitwear
Peter Gribby were established in 1985 and are a second generation knitwear manufacturer based in Nottinghamshire. Montys are proud to offer a large selection of their soft handle 100% lambswool and Shetland knitwear. All of the pullovers are machine washable and are in stock from Medium to XXL. This year we have added a pheasant scene in one colour for all our "country" fans which compliment cord trousers and check shirts. Prices start from just £69.95.
Roll collar – cream marl £79.95 lambswool/yakwool.
Merino wool/cotton blend C.N. 69.95.
Lambswool C.N. cables £69.95.
Viyella Knitwear
Always a favourite at any time of the year, the Viyella argyle pullover is made from pure lambswool and available in four colourways. It is machine washable and sized in stock from Medium to XXL. To accompany the  argyles they have made 2 colourways in a knitted waistcoat which buttons through with pockets.
Harley of Scotland
Harley of Scotland are a family business based in Peterhead in the North East of Scotland and manufacture all of their designs in house having been established in 1929, some 88 years ago. They specialise in complicated fairisle patterns and we have 6 of them in beautiful Autumn shades plus a Donegal yarn plain range of knitwear which incorporate many colours within the "plain" sweater. Prices start from £109.