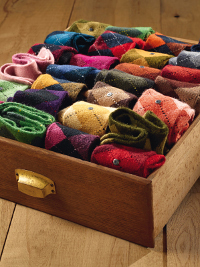 To quote a local well known brewer, we think we have literally the biggest stock of socks, certainly anywhere in the Midlands, if not further afield.
We have 63 different argyle colours from Burlington alone in their supersoft acrylic at £10.95 in a stretch 6-11 shoe size with an 11-14 shoe option if required, and, of course the ladies version in 4-7 shoe at £9.95.
Pringle gift packs at £15.00 for 3 pairs, Pantherella cottons and their most luxurious cashmere plains and patterns. Viyella plains in short, calf length and knee length alongside short patterns featuring spots, herringbones, fairisles and heel and toes at £12.50.
Worthy of mention are diabetic socks from HJ, available in 4-7, 6-11 and 11-13 shoe in both a cotton mix and wool mix at only £4.99 and £6.99. We sell so many of these newish socks and for colder nights we still sell bed socks in supersoft warm acrylic.
To recap we have: plains, stripes, argyles, checks, spots, herringbones, fairisles, heel and toes made from wool mix, cotton mix, silk mix, all nylon, cashmere and super soft acrylic.
What more could you need? Montys socks are not boring any more !