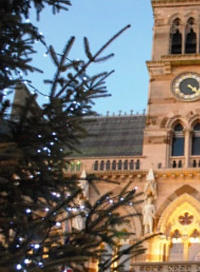 With only 26 shopping days left to Christmas, we all know the pressure is on to select and buy the perfect present.
To that end we start Sunday opening this Sunday the 3rd December from 10:30AM to 4:00PM and the three following Sundays, 10th, 17th and of course the 24th Christmas Eve as well. Most of the St Giles Quarter shops will be open.
Parking is FREE in town both on street and in the car parks and generally Sundays are quietish, relaxed "no hassle" shopping days.
Please feel free to call in and sample the Roses chocolates and have a "no obligation" wander round.
We look forward to seeing you.