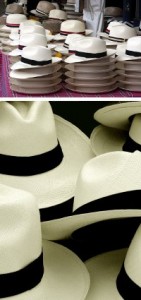 For all of you who are playing golf or are out enjoying the sun, I'm sure you are aware of the need to wear a hat or some form of headwear.
For those that don't wear a traditional knotted hanky, we have all manner of chic cotton, linen, straw and Panama hats.
With simple cool cotton sun hats starting at a moderate £4.95 through to popular straws starting at £9.95 to stylish Panamas at £55 and £69.95.
All of our quality Panamas are made by Olney headwear in Luton, the woods (the straw frame) are meticulously hand woven in Ecuador and then trimmed and finished to Olney's usual high standard.
We have three appealing styles in stock all year long, all sized in hat sizes in increments of 1CM to ensure a perfect fit. Hat sizes range from 6 3/4 to 7 3/4 as well as the super-fine, a versatile panama of excellent quality which can be folded making it ideal to take on holiday or travel with at only £69.95, it comes with a FREE protective tube to travel with.
Pop in and see Sally, who looks after all things headwear and stop that sunburn !