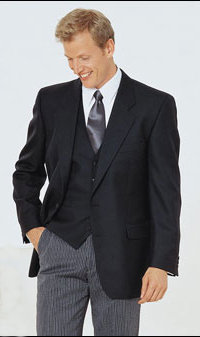 The start of the summer signals that many Masonic lodges will close for their Summer recesses and what better time to renew those formal clothes ready for later in the year or indeed for those who are receiving provincial honours, a superb reason to update your image at Montys.
Black jackets together with coordinating stripe or black waistcoats and stripe trousers are in stock together with smart mix and match 2 and 3 piece suits in black, navy and charcoal grey.
Crisp white non-iron shirts from Olymp with single cuff (cufflinks or button cuffs) or double cuffs (cufflinks only) are the order of the day together with formal ties and accessories and formal shoes from Cheaneys or Steptronic. We also stock a range of Masonic regalia including crested cufflinks, tie tacks and tie slides alongside crested braces.
Please feel free to speak to Patrick who looks after all our formal wear on (01604) 639605 from Tuesday to Saturday or pop in anytime you are passing. Patrick is also willing to visit you at home or the office – please phone for an appointment.